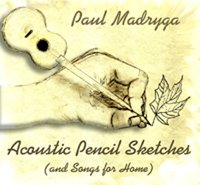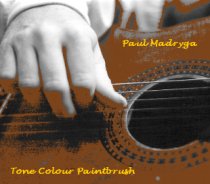 You can buy your copies online here and here, or find it on streaming services (or, if you think Amazon and Spotify have enough money already, send Paul a cheque, money order, or e-transfer for twenty Canadian bills, and he'll mail you an autographed copy…).
A musician's set list is invariably a reflection of his/her own experiences as a musician and human being. With his playlist, Paul hopes to share these experiences (some of which are decidedly Canadian) with his audience. The tracks on his first CD speak of a long-overdue return to one's childhood home, the magic of the changing seasons, summer sunsets while driving across Saskatchewan, winter (a theme upon which Canadians can justifiably call themselves experts), and, inevitably, falling in love (a theme that transcends national boundaries and touches all of us somehow).
Tone Colour Paintbrush gives a tip of the hat to some of his favourite guitar composers of the last two generations, and his live gigs go back two centuries: Fernando Sor, Augustin Barrios, Jorma Kaukonen, Rik Emmett, Steve Howe, Andrew York are woven through the set to remind the listener of what good guitar-playing is all about.
One of Paul's typical set lists would include many of the following, depending on the venue:
Originals – Headed for Home; Music for an Autumnal Equinox; Seasons of the Lights; Fair One; Holiday Waltz for One, Road from Assisi
Covers and classically-influenced Pieces: – Your Latest Trick (Knopfler); Little Wing (Hendrix); Variations on a Theme of Mozart (Sor); La Catederal, Julia Florida (Barrios); Embryonic Journey (Kaukonen); The Clap (Howe); Andecy; Sunburst; Gigue; Waiting for Dawn (York); "Fuoco", from Libra Sonatina (Roland Dyens); Una Dia de Noviembre (Leo Brouwer); Recuerdos de la Alhambra (Francisco Tarrega); God of the Northern Forest/Kinkachoo, I Love You; Jade Unicorn (Philip Houghton)