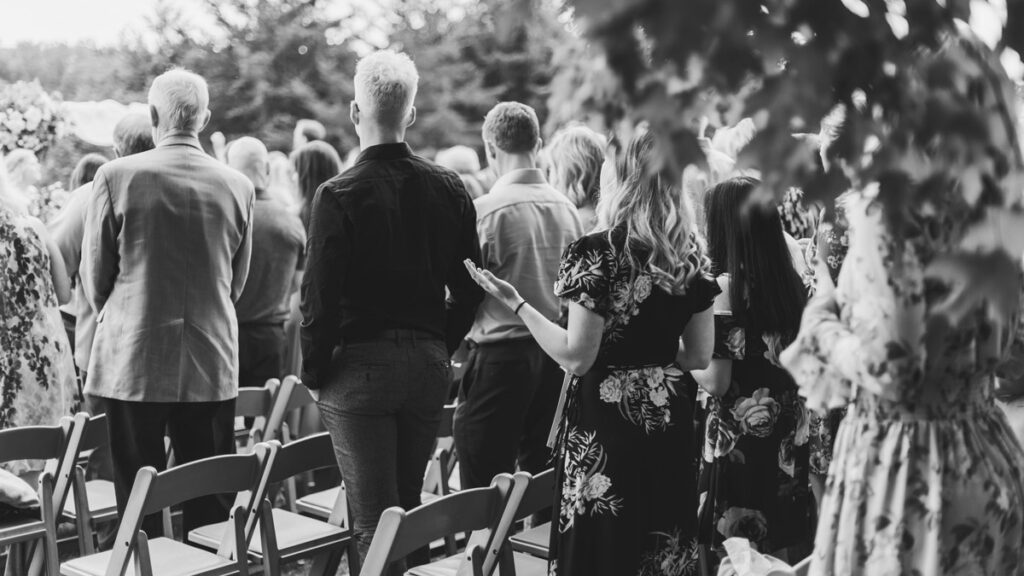 Your wedding day is probably the most important day that you and your spouse will share in your life together. There are countless details that need attending to, all of which can stress you out – the ceremony music should not be on the Stress List. I've been playing weddings since 1995 – let Paul the Seasoned Professional take care of it!
Why Classical Guitar?
Affordability – I frequently do duet weddings with a flutist or violinist colleague, and I always enjoy the experience (these are certainly possibilities that we can discuss), but more often than not, I work alone – this means only one musician to pay.
Versatility – pianists can't do outdoor weddings; guitarists can. Additionally, a guitarist takes up one quarter of the space of a string quartet.
Volume Control – classical guitars are quiet instruments by nature, but modern technology makes amplification possible with minimal tone quality loss – I can play as small or as large a venue as required.
Repertoire
The following repertoire lists highlight the three points in the ceremony that usually require specially-selected music – I've found that these pieces work very well and are practical for a solo guitarist:

Processionals
Cello Prelude, BWV 1007, by J.S. Bach
Gavottes I and II, from Cello Suite No. 6, by J.S. Bach (also works as a recessional)
Jesu, Joy of Man's Desiring, by J.S. Bach (this also works as a recessional)
Prelude from English Suite, by John Duarte (this works as a recessional, as well)
Canon in D, by Johann Pachelbel (the arrangement I use is not precisely faithful to the original, since trying to duplicate the full canonical effect would make the piece virtually unplayable on the guitar. However, it can make a lovely passacaglia…)
Bridal Chorus from Lohengrin, by Richard Wagner
Registry-Signing
Torija, from The Castles of Spain, by Frederico Moreno-Torroba
Montemayor, from the same set
Largo, from Concerto in D by Antonio Vivaldi
Lullaby, by Andrew York
Recuerdos de la Alhambra, by Francisco Tárrega
Waiting for Dawn, by Andrew York
Sueño, by Jose Viñas
Kinkachoo, I Love You, by Phillip Houghton
El Testament d' Amelia, by Miguel Llobet
Recessionals (in addition to those noted above)
Wedding March, by Felix Mendelssohn
Sunburst, by Andrew York
Allegro Vivace, Op.111, Part 2, by Mauro Giuliani
Vivace, by Adam Falckenhagen

If there are particular pieces that you had your heart set on having played at your wedding, but you don't see them on this list, then by all means mention it during our consultation session, and I'll see about making it a possibility.
Rates

As of August 2022, my solo fee for a wedding is $325CDN. This does not include travel expenses (should the wedding be outside Brandon), but it does include an optional consultation session, at which time I can play some of my repertoire for you, you can make selections accordingly, and we can sign a contract for my services. It also includes my time at the rehearsal, which I will attend if the wedding location is in or near Brandon.