Had an awesome time at the Calgary Suzuki Strings Association Festival. Big props to Tammy Poon and associates for making it happen, and for inviting me to adjudicate. Big thanks also go to my fabulous Calgary and Edmonton colleagues Kim Aull, Mandy Loban-Jordan, and Dayle Besler for dropping into the teacher symposium (much obliged for your enthusiasm for my arrangements, ladies – pdf's will be available soon). Kudos to you three for doing what appears to be top-drawer work in your programs – after the 15th adjudication, I got tired of writing "excellent posture and positioning"…! It's a beautiful thing we do, this guitar-teaching thing…

In the Department of Random-Stories-From-Travelling:

1) Did you know that West Jet flight attendants sometimes present the In-Flight Safety Demonstration in the form of a Dr. Suess poem…? Neither did I. quite entertaining!

2) There's a rather high-end beauty-product boutique in the concourse of Calgary International Airport that employs a very skilled and assertive sales agent (who is cleverly disguised as a breathtakingly-beautiful, 35-year-old Isreali woman), who will do her upmost to convince the single travelling guitar teacher that he really, _realllllyyyy_ needs a three-year supply of this amazing eye-care product that will relieve his tired peepers after a long day of teaching. The tube of said amazing product, the size of my thumb and retailing for $399 (Uh-huh. Yep.), will be offered to said guitar teacher for the low, low price of $199 – which then, after protestations regarding the impending repairs needed upon said guitar teacher's house, became $99. Oh, you're good, madam… well-played, indeed (No, I didn't buy any – thanks for asking).

Anyhow, back to the music. Speaking of home programs (specifically, mine), the Brandon STEP spring concert is safely done and out of the way, celebrated in fine fashion with a lovely spring day and an arrangement of three Canadian folksongs (by cello colleague Michelle Bouchard and myself) for a mess of violins, cellos, and guitars (with piano accompaniment – Thanks, Sunhwa Her, for your fantastic work). Fun stuff! Video will hopefully follow shortly…

It's exciting to watch my students grow – case in point: remember this punk from six years ago…?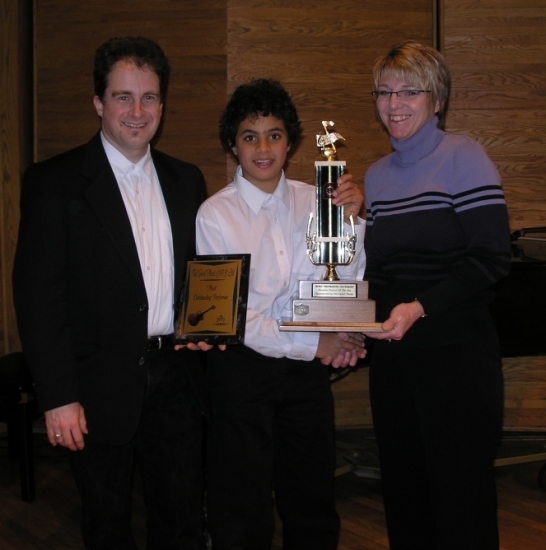 Well, it's the end of one road for Nabil, who's starting a whole new one next year. It's been a great ride, buddy – glad to have been a part of it, and best of luck with the whole engineering thing.
I case you haven't seen them, some videos from the 4 April concert have made it into Web Land – check them out here.
Back to work tomorrow… ciao for now.